Synthetic Turf & Grass in Melbourne
Specialists for Synthetic Grass
Xtreme Turf are your local experts for the installation of the highest quality of synthetic lawn that you can find in Melbourne. For nearly a decade, we have prided ourselves on being able to install the best products, at the lowest prices. All of our synthetic turf products are made right here in Australia, and have been tested against the fierce weather of our climate.
Over the last 6 to 7 years, we have experienced phenomenal growth in the domestic market, and the products that we supply are lifelike, and maintain the look and feel of the real thing. We also supply our products to the DIY person with comprehensive instructions and valuable tips and hints.
The realistic look and feel of our fake grass, plus our commitment to making sure that our customer service is kept as high as possible, has seen us grow as a company. We now service the entire Melbourne area, and have even developed turf solutions for the budding DIY person to use and install. Our prices are some of the lowest that you will find, and we do not use lead or other heavy metals in the making of our artificial turf.
Our Synthetic Grass & Turf is the best that you will find in Melbourne
On top of being highly realistic, and durable under all seasons, our synthetic grass will provide you with a host of amazing benefits, such as:
Providing you with a low maintenance solution.
Allergy free, without any harmful materials used.
100% safe for children and pets.
Can be used for a wide variety of purposes.
A durable and long lasting alternative to real grass.
You can find our synthetic grass anywhere
We have been very lucky to provide our synthetic grass to many sporting clubs and community groups. Our artificial turf has helped many different clubs and groups overcome the high cost of maintenance fees, whilst still offering a great, natural look to their lawns. We have also provided our turf to many commercial entities helping them to improve the first impression of their business through a positive visual.
We specialise in creating bowling greens, tennis courts, and football pitches. We aim to provide a surface that plays true like the real thing. We have also provided many educational facilities with play areas. Our focus on safety has made us a leading name in this particular industry. Our commercial prices are low, and will prove to be the best that you will find anywhere.
Contact us today for Artificial Turf or Grass
Our team hold vast experience in both the turf that we use, and the installation process. We take pride in being able to offer the best advice on installing your new, synthetic lawn, and will be more than happy to answer any questions you may have. Call us today, or send us a query form below, and let us help you cut down on maintenance time and costs, with our reliable, synthetic grass.
We Supply , Hire, and Install Artificial Turf in Melbourne. We have been supplying the Australian market for 9 years and have made many long term relationships with various companies who resell our line of products including Reece stores.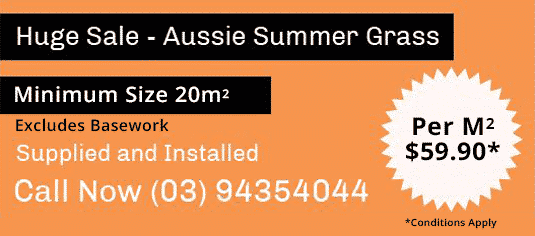 Our Happy Customers
Hi Nicole,
Many thanks for a great experience, we are very happy with our new turf.
We will be recommending your company to fami

Regards, Sam Branagan

"We found the team at Xtreme Turf to be very friendly and efficient in installing turf into our backyard. The customer service experience was parti

Aron, Carlton.

Hi Ash/Nicole

Grass went in yesterday and looks great, thanks.

Hi Nicole

Thank you again we just love the grass

Kind regards Sarah Brophy

Having recently moved into our new home - we were faced with a sad tale - the rear garden was very much in need of surgical like intervention. for

Kind regards Mike Illidge
Enquire now
We are looking for new clients
Office Location
25 Peel St Eltham Victoria
3095 Australia