Synthetic Grass and Artificial Turf in Melbourne.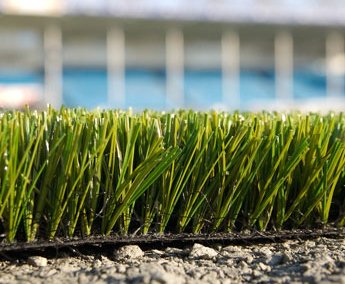 Your gardens can never be complete without the presence of grass. With the fast-paced lifestyle that we lead today, it can be challenging to maintain real grass.
With almost a decade of experience in synthetic grass, Xtreme has what you need to achieve beautiful looking grass all year round.
We provide affordable supply and installation of synthetic turf in Melbourne. Our turf are made from high quality materials and all our products have been tested  and proven to work with harsh Australian conditions to withstand climate changes and uncommon soil conditions. Our artificial grass are also children and pet friendly. They are durable and require less maintenance.
What are the benefits of artificial turf?
Some of the benefits of a synthetic grass include:
Save on water usage – Your fake grass will not need water to grow, and requires just a spray with a hose for a quick clean.
Save on time – No mowing is necessary, so do the things what you'd rather be doing on the weekends.
No weeding – Eliminate the need for harsh chemicals, and hurting your back and knees to pull out unsightly weeds.
No harmful fertilizers or pesticides – Save your wallet, your health, and the environment by removing the need of harsh chemicals to maintain your lawn.
Looks great all year round – No longer will your lawn be brown, muddy or yellow. Artificial grass will stay green no matter the season.
Our product range in Melbourne.
We provide a wide range of artificial turf in Melbourne. We specialise in artificial grass for both residential and commercial areas and provide solutions for residential gardens, community groups and educational facilities with landscaping and installation options as well.
Our synthetic grass installation.
You can choose to get our expert team for synthetic grass installation  in Melbourne. You can also choose to buy our grass do it yourself (DIY) kits if you prefer to install them yourself.
Create better looking lawn today. Find out what Xtreme turf can do to transform your garden. Simply fill in the form above and we will be in touch shortly.
Why Xtreme Turf is best for synthetic turf installation?
Get your synthetic turf from us, you will get:-
Professional advice and service
Satisfaction guaranteed
Competitive pricing
Years of experience in providing and installing artificial grass
Wide variety of synthetic turf
Benefits of our artificial turf are:-
Allergy free
Will not fade or stain
Low maintenance
Children and pet friendly
Highly durable
No watering, weeding or mowing needed
Lead free
Installing Artificial Grass - Before and After
Our experienced and expert team of staff have perfected artificial grass installation. Not only can we promise a quick and hassle-free process, but we can also commit to keeping our installation cost as low as possible.
What's more, our turf installation team will also be on hand to answer any questions that you may have. It's only one of the many reasons why we're the best artificial grass suppliers around town.
Our Latest Gallery of Synthetic Grass Installation
BLOG
Jul 1, 2016
Whilst it is true that synthetic grass does not require the level of maintenance that the real thing does, there is still a duty of care to make sure your synthetic grass lasts for a long time. We'v...
Reviews and Customer Testimonials
Regards, Sam Branagan

Hi Nicole,
Many thanks for a great experience, we are very happy with our new turf.
We will be recommending your company to family and friends.

Aron, Carlton.

"We found the team at Xtreme Turf to be very friendly and efficient in installing turf into our backyard. The customer service experience was particularly impressive. Since the turf was installed we've been using the space so much; it just looks fantastic. We wouldn't hesitate to recommend Xtreme Turf's products and services to others in the future."

Kind regards Sarah Brophy

Hi Ash/Nicole

Grass went in yesterday and looks great, thanks.

Hi Nicole

Thank you again we just love the grass and we REALLY appreciate everything you did to have it laid by our sons birthday party. We will definitely be recommending you to others

Kind regards Mike Illidge

Having recently moved into our new home - we were faced with a sad tale - the rear garden was very much in need of surgical like intervention. for it to survive. I am pleased to relate that from the first call to Nicole and the measurements with Ashley we knew what was needed was safe in their hands, On the appointed day David arrived just after 7am 'operated' with skill all day and the result was a transformation to wonderful lawn areas a joy to walk on even with bare feet and the garden has made a recovery beyond what we could have hoped for. Many thanks to Nicole, Ashley and David for their friendly but professional manner