Artificial Grass Supply & Installation South Morang
For all of your artificial turf solution needs, trust the experienced and knowledgeable staff at Xtreme Turf, to provide you with only the finest, most reliable, and best looking synthetic grass in Melbourne. We have been fitting thousands of residents, schools and business owners with fantastic synthetic turf surfaces for over ten years, and are best placed to provide you with a great product at an unbeatable price.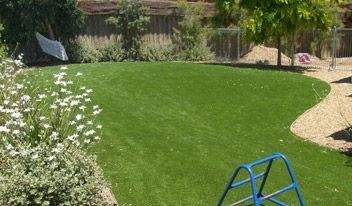 Our range of products represents the best artificial turf South Morang has to offer, and we can have your new surface installed quicker and easier than ever before. Our synthetic grass in South Morang is free of any harmful, heavy metals and chemical compounds, ensuring that you're getting a great product that will be completely safe. Call 0406 686 911 to talk to our expert team today, and let us show you how artificial grass can change your property for the better.
Residential artificial grass South Morang
Our impeccable track record of the installation of fine artificial grass South Morang wide, has made us the first port of call in the area for beautiful, residential turf solutions. We only ever use just the right type of turf, suited perfectly to your home and property, and can do all of this at the lowest price possible. We possess a wide range of surfaces for synthetic turf in South Morang, all of which will prove to be long lasting and extremely reliable under all weather conditions.
Commercial synthetic turf South Morang
Xtreme turf has provided many businesses with the best fake grass in South Morang on the market today, including medical clinics and cafes, and we are on hand to do the same for you. We have also assisted many schools in the wider region, by providing them with a safe, attractive and fun playground area for their students, all coming with our guarantee of reliability and durability as standard.
Sport artificial turf South Morang
Does your club's sporting pitch look a little worn and tired? Talk to the team at Xtreme Turf, who will be more than happy to guide your club's administrators through our fantastic synthetic pitch solutions, suitable for a wide range of different kinds of sports and recreation. We can also have the pitch measured and fitted perfectly, ensuring you're getting a beautiful, green pitch that suits your club perfectly.